Bi Axial Machine Manufacturer
Manufacturer & Supplier of Bi-axial Rotational Moulding Machine / Bi Axial Rotomoulding Machine
We are the leading Bi Axial Rotomoulding Machine Manufacturer in India. The entire range is designed using the premium quality raw materials and are also of the best quality. They are designed as per the latest specifications and possess all the latest technology that promotes their usage worldwide.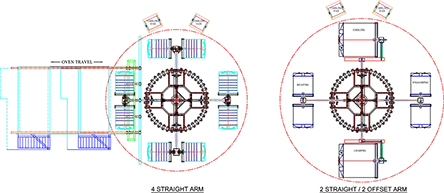 Model of Bi Axial Machine
We provide the wider range of these bi axial machine which consist of the following models-
Single Arm Bi Axial Molding Machine
Two Arm Bi Axial Molding Machine
Three Arm Bi Axial Molding Machine
Four Arm Bi Axial Molding Machine
And they can be easily chosen as per the requirement and applications.
Features of Bi Axial Machine
The features of the bi axial molding machine provided by us are stated below
Superior quality
By low fuel consumption medium production can be easily achieved
The oven are specially designed which reduce the cycle timing and also avoid the heat loss
Cera wool materials is used for insulating the oven walls
Have user friendly electrical control panel with the required interlocking facility
We provide an optional PLC Control facility for their complete automation
Have a multi layer charging facility
Have all the safety indicators, alarms and devices for secure operation
It have imported energy efficient burners which are compatible with Diesel, CNG or LPG fuel
Customization facility is also available
Require less maintenance
Provide more output and consume less fuel
These machines work using all the latest mechanism which is very easy to handle and operate. After passing the strict quality testing they are supplied and exported globally. The best quality Bi Axial Molding Machine in India is provided at very reasonable price. Besides, these they have smooth exterior surface finish and have non corrosive body which can with stand all atmospheric condition efficiently. All the models installation is also very easy and is highly efficiency in long run.
The India Roto Plast is the leading Bi-axial Rotational Moulding Machine manufacturer and supplier in India. The complete solution related to all the bi axial machine is provided by our company.
Inquire us or call us for more details.